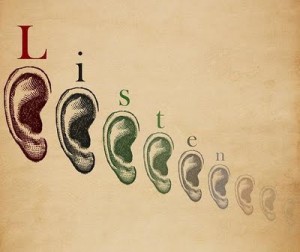 Prayer is about connecting with God.  Connecting with our creator.  It is where we pour out our soul to the one who created it.  The one who knows how to handle it.  The only real one who can handle it.  And more importantly, it's where we hear Him Speak.  There are far too many followers of Christ in this world who have no idea how to hear from the Lord.  It blows my mind.  What are we doing if we are not listening to the Holy Spirit?  Listening to God?  This is what prayer is!
Yes, it is pouring out our souls, our hearts to our Creator.  But it is so much more.  It is where we are filled up as well.  It is where our Creator pours back into our soul.  To pray to the Lord all of our concerns without taking the time to listen for His response is to engage in a one way conversation.  Prayer is meant to be a two way conversation.  The problem is, many of us are not listening.  Many don't know how to listen.  Still more don't even know they are supposed to be listening.
Prayer is both telling and being told, unloading and being reloaded, emptying out and filling up.  When we are only engaging in a one-way conversation we miss out on a lot.  We are missing out on hearing the voice of God; hearing the Lord is vital to our relationship with Him.  I wish everyone would spend more time listening for the voice of God in their lives – starting with me.  Beginning this week, I am setting aside more time in my schedule for prayer, especially listening prayer.